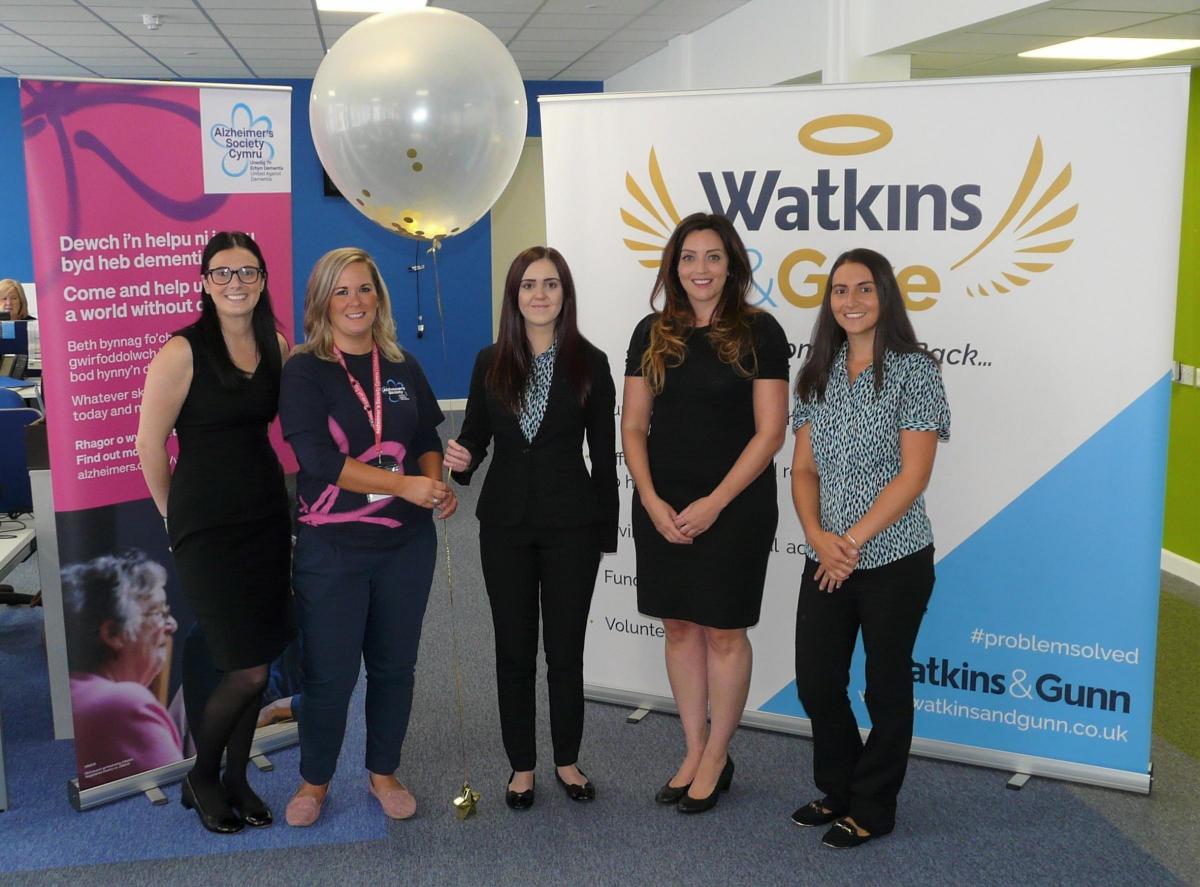 The mystery surrounding law firm Watkins & Gunn's charity donation to Alzheimer's Society has been revealed in an explosion.
Contained in a helium-filled balloon, a golden ticket for £2,662.31 burst into the charity's regional headquarters at Mamhilad Park Estate, Pontypool.
The glittering explosion contained the charitable donation from the solicitors, which has offices in Pontypool, Newport and Cardiff.
Natalie Corten, the solicitor at Watkins & Gunn who is championing the charity donations, said that Alzheimer Society's golden ticket is one of 12 which the firm will be making over the next couple of weeks.
She said: "Alzheimer's Society Cymru was chosen by a staff vote as one of the charities that we most wanted to support, as dementia has touched so many lives. We tried to think of a way of a fun and novel way of making the donations fun and we hope that we found it with the golden ticket idea."
Linda Dack, head of probate at Watkins & Gunn and a Dementia Friend, said "We are working towards making the whole firm Dementia friendly and are thrilled that our money will help provide a service to those dealing with the struggles faced by Dementia directly."
Alzheimer's Society Cymru community fundraiser Cheryl George, using a pin to burst the charity balloon, said: "We're thrilled to have been chosen as a recipient of these funds. Dementia is the 21st century's biggest killer, with someone developing it every three minutes.
"Alzheimer's Society Cymru is here for anyone affected by dementia. We are working tirelessly to challenge perceptions, fund research and improve and provide care and support.
"The money donated will go towards helping fund Talking Point. Talking Point is an online community where people can ask questions, share experiences and get practical tips on living with dementia. Open 24 hours a day, people can give as much, or as little detail as they want to and can stay anonymous if they wish. Last year we had 47,500 visits to talking point here in Wales."
Alzheimer's Society recently located their regional headquarters to the 3,400 sq ft office at Caerleon House, Mamhilad Park Estate, Torfaen, consolidating their five district offices in Gwent into the one.
To read the full article by the Free Press, click here.