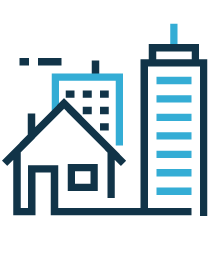 More than three and a half years since the Grenfell Tower fire which killed 72 people, thousands of families in Wales are still living in apartment blocks with dangerously flammable cladding.
In addition to flammable cladding, buildings across Wales have other serious faults, including missing fire breaks, flammable balconies and combustible insulation. Leaseholders are effectively trapped in these properties, unable to sell them and unable to afford the astronomical increases to their insurance and service charges.  Thousands of leaseholders in these buildings have already been forced to spend millions on interim safety measures such as a 'waking watch' and alarms. This is enough in itself to bankrupt some, yet the financial burden continues with remedial work on buildings estimated at up to almost £60k per leaseholder.
Concerned leaseholders have been desperately awaiting a decision from the Welsh Government as to how the safety issues, which have arisen from years of regulatory failure, will be resolved.
Since the announcement of a £1bn Fire Safety Fund in England, and the consequential payment of £58m to the Welsh Government in March 2020, affected leaseholders in Wales have eagerly awaited an announcement of a funding scheme and support for leaseholders.
Commitments have been made around investigating funding arrangements, most recently from the Welsh Minister for Housing and Local Government, Julie James on October 23rd 2020:
"…we are considering funding models that allow us to ensure work is carried out to make these buildings safe, help prevent leaseholders from facing the full burden of the costs and ensure funding is contributed from other sources."
However, no action has been taken. There is a distinct feeling of frustration and anger amongst leaseholders in Wales, stemming from the lack of support received from Welsh Government to date. This is echoed by the initial results of the Wales LAG mental health survey with 98% of respondents stating they have not felt supported by Welsh Government on these issues, although 19% feel they have been supported by their representative Members of the Senedd. (See table summary in Appendix 1)
Frustrated by inaction by the Government, leaseholders have instructed award winning Cardiff public law solicitors, Watkins and Gunn, who have issued an open letter, dated January 26th 2021 to the Welsh Ministers (Read the letter here –  Open letter to the Welsh Government ). The letter highlights the detrimental effect the delay is having on families, the elderly, and children, and the equality and fairness issues arising from the fact that the Welsh Government has to date only funded remedial works for leaseholders in 'the public sector'. The letter requests further scrutiny of the Government's decision-making process and confirmation of the date on which a decision will be made.
Lucy O'Brien, Associate at Watkins and Gunn said;
"It is difficult to see how continued inaction by the Welsh Government can be justified when leaseholders in Wales are suffering appalling hardship through no fault of their own. Many are facing bankruptcy and stand to lose their homes. Our clients hope that legal proceedings won't be necessary to correct such an obvious injustice."
Cerys Owen, founder of Wales Leaseholder Action Group Cymru stated:
"We appreciate that the cladding and building safety scandal is a UK wide problem. However, the fact remains that leaseholders in Wales are suffering and need Welsh Government to take action and support us in these difficult times.
At the very least, the consequential funding received needs to be set up as a fund and distributed to affected leaseholders.
Whilst leaseholders are waiting for Welsh Government to take long overdue action, they are facing bills they cannot pay, are at risk of being made bankrupt and homeless and are running out of time.
It was encouraging to hear so many MP's from all political parties speak out in understanding the horrific circumstances leaseholders are facing at Labour's Opposition Day debate. I believe that this understanding exists within Welsh Government too, but I fear that whilst we are gathering more cross party support, we are not seeing the cross country support we need to ensure Welsh leaseholders are protected too."
Rebecca Ashwin, a leaseholder living in Cardiff stated:
"I feel like my life is completely on pause and with no announcement from the Welsh Government, there is no end in sight. Over a year after I first contacted my MP, the Welsh Government still seems to have no idea of the scale of this issue, never mind how to resolve it. I feel abandoned by everyone who should be there to help protect us and when you have to worry every day about your safety and your future, it feels like an eternity".
Appendix 1
| | | | |
| --- | --- | --- | --- |
| | Agree | Neither Agree or Disagree | Disagree |
| The Welsh Government's response to cladding & fire safety following on from Grenfell has been timely & appropriate | | 2% | 98% |
| I have felt supported by Welsh Government on fire safety issues in my building | | 2% | 98% |
| I have felt supported by my representative Member of the Senedd on these issues | 19% | 14% | 67% |
| I have felt supported by my local council on these issues | | 7% | 93% |
| It's acceptable that the Welsh Government spent the allocated funding on other issues and haven't set up a Welsh Building Safety Fund | 2% | 5% | 93% |