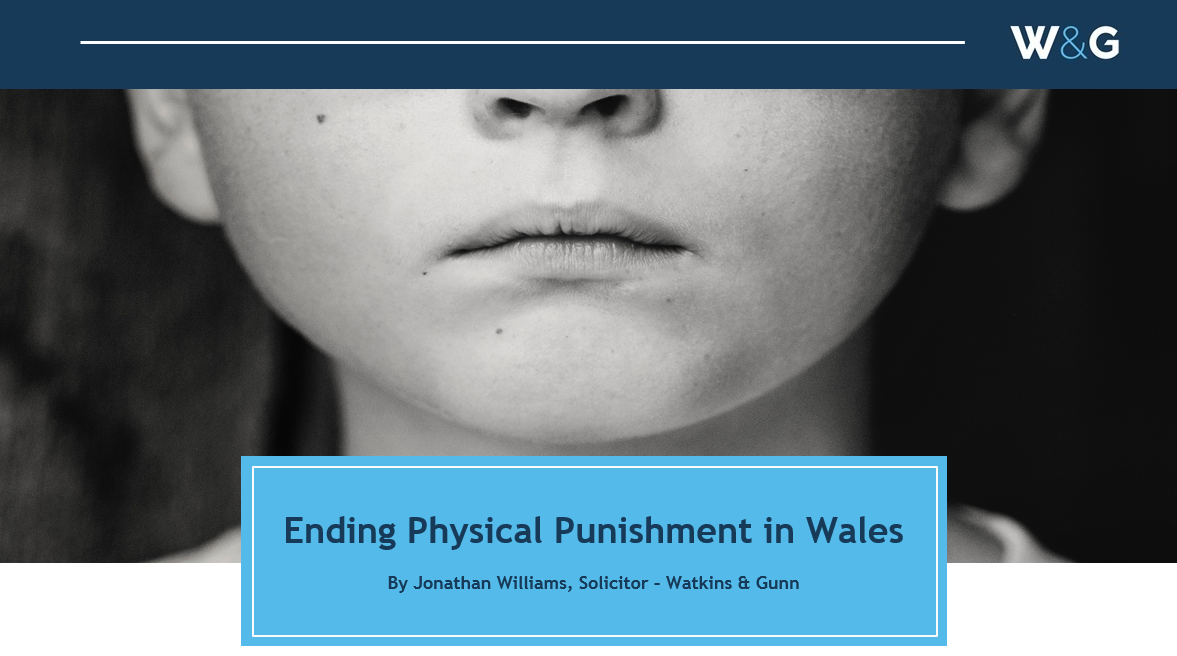 Today is a historic day for children in Wales. That's because it's now illegal to physically punish a child in Wales.
The 'smacking ban' – brought about by the Children (Abolition of Defence of Reasonable Punishment) (Wales) Act 2020 – will mean that children in Wales have the same protection from assault as adults.
The law will apply to all parents in Wales and anyone who is responsible for a child while their parents are absent. It will also apply to anyone who visits Wales – as is the case with Welsh laws.
This will be the first time the core criminal law will differ between England and Wales.
Scotland introduced their own 'smacking ban' in 2020. Northern Ireland will remain in line with the law in England.
Although the Act was given Royal Assent on 20 March 2020, Section 1 of the Act will come into force on 21 March 2022, which will abolish the common law defence of 'reasonable punishment' so it can no longer be used in Wales where a child has been physically punished. This will apply in both a civil and criminal setting.
The reasonable punishment defence has always been a grey area because it depended on factors which included the child's ages when they were physically punished and the severity of the punishment.
The defence was already restricted in relation to criminal law charges of wounding or causing grievous bodily harm, or assault occasioning on actual bodily harm to a child; or the specific criminal offence of cruelty to persons under 16.
It was also restricted in relation to civil charges for battery of a child causing actual bodily harm, or by those acting in place of a parent such as in a school or nursery setting.
The Act now defines corporal (physical) punishment as any battery of a child carried out as punishment – the key word being 'any'.
It isn't possible to provide a list of what constitutes physical punishment, because it can be anything where a child is punished using physical force; however, the most obvious examples include hitting, slapping, spanking and shaking.
The Welsh Government state that the aim of the Act is to protect children from physical punishment and to make the law clearer for children, parents, professionals and the public to understand.
The law is now unambiguous in that it makes clear that any physical punishment is illegal in Wales.
Anyone who physically punishes a child in their care from 21 March 2022 will be breaking the law and could therefore be charged with common assault. This may lead to the person carrying out the physical punishment being prosecuted and getting a criminal record, as is the case for any criminal offence.
Where a case of physical punishment has been reported to the police, it will be for them to decide whether any action is taken. The police can either take no action, charge the individual and refer the case to the CPS, or offer an out of court disposal. Each case will be assessed on its individual circumstances.
The latter of the above actions is a rehabilitative alternative to prosecution that will include an option of tailored parenting support to encourage positive parenting techniques to avoid re-offending. This will be delivered by local authorities via money they will receive from Welsh Government – around £2.9 million over four years.
Welsh Ministers must publish two reports on the effects of the changes to the law after Section 1 has come into force. The first report must be published within three years of Section 1 coming into force and the second report must be delivered within 5 years of the change.
by Jonathan Williams, Solicitor – Watkins & Gunn 
 For all his excellent legal, charity and voluntary work, Jonathan won Cardiff and District Law Society's 'Junior Lawyer of the Year' award for 2020.
This article is for general information purposes only and does not constitute legal or professional advice.