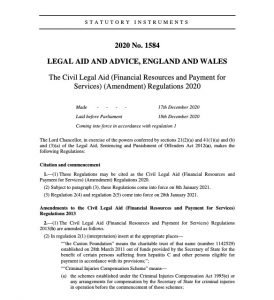 A Welsh man, gravely ill as a result of receiving infected blood, has won a landmark legal case forcing  a Government u-turn meaning that thousands of people who have been affected by this scandal across the UK will be eligible for Legal Aid support where, previously, it would have been denied. This brings victims of infected blood in line with victims of other scandals such as Grenfell and Windrush.
The Infected Blood Scandal has been described, as 'the worst treatment disaster in NHS history'. Thousands of people across the UK received contaminated blood throughout the 1970s and 1980s as a result of medical or surgical treatment. Many victims became infected with HIV and/or hepatitis, resulting in death or serious debilitating illness.
Whilst they have never been formally compensated, Governments across the UK provide some financial support to victims of this scandal. The payments awarded to victims differ in each devolved nation. Such payments are a vital lifeline to victims' families where illness prevents work. However, these modest payments take victims above eligibility thresholds for Legal Aid. In contrast, similar such payments to the victims of Windrush and Grenfell are disregarded for government benefits and for Legal Aid purposes. This is, unfortunately, another example of the infected blood community being forgotten and having to fight for recognition. The effect was that an already vulnerable community was being deprived of the benefit of Legal Aid. Legal Aid has been greatly cut back by successive governments in recent years but it is still vital for those facing child care issues, domestic violence, criminal charges or seeking to enforce their rights against public authorities.
When the Legal Aid Agency and the UK Government refused to correct this wrong, and to put infected blood victims on the same footing as Grenfell and Windrush victims, Mr Ellis instructed Michael Imperato of leading South Wales law firm Watkins & Gunn to take proceedings for Judicial Review in the High Court. The case was fiercely resisted but shortly before a hearing date the Government backed down and agreed to change the law and to disregard blood victim support payments for those victims who might have to apply for Legal Aid.
The new law comes into force today.
Mr Ellis stated;
"My partner and I are relieved that this injustice has now been rectified. I would like to thank Michael Imperato and his team at Watkins and Gunn for their assistance with my case. This sad state of affairs highlights how the Infected Blood Community seems to have been forgotten by those in power in Westminster and beyond. It is scandalous that blood victims must take legal action in this manner simply to be treated the same as those who are involved in similar high-profile inquiries such as Grenfell and Windrush.
Lynne Kelly Chairperson of Haemophilia Wales said;
"'We are delighted the challenge has been won and infected blood victims who have been harmed by the state will not be denied legal aid in the future thanks to the Ellis family and all at Watkins and Gunn ' 
Michael Imperato Partner at Watkins and Gunn said;
"I am pleased that we have been able to rectify this injustice on behalf of Mr Ellis and the Infected Blood Community. It is disappointing that the matter had to be taken all the way to the High Court, causing delay and stress to already vulnerable victims. However, justice was achieved in the end."