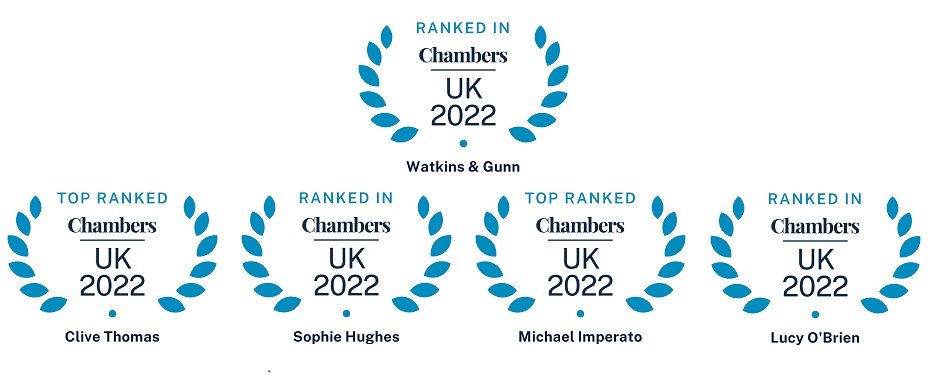 The latest rankings have been released for the 2022 edition of Chambers UK and we are pleased to announce that we have been listed as a 'Leading Firm' once again and our Administrative/Public Law, Personal Injury and Family/Matrimonial teams have been singled out as 'ranked departments'.
Administrative/Public Law – Band 1
"They get immensely high-quality work and are extremely impressive for their size. They provide an excellent service for their clients."
"They provide regular communication and opportunities to discuss strategy and review things. They're also very responsive."
"They are developing good relationships with public interest groups and their client care is excellent."
Michael Imperato (Band 1) heads the practice and is frequently instructed by the Welsh government and local authorities for his strength in judicial review proceedings and public inquiries.
"He works incredibly hard and is very good at liaising with large numbers of clients."
"He's very easy to work with and keeps you up to date."
Lucy O'Brien (Associates to Watch) has a wealth of experience in public law and is frequently sought after to represent claimants in challenges concerning human rights and civil liberties as well as inquests and inquiries.
"She works extremely hard for her clients."
"She is great to work with." blank space
Personal Injury – Band 2
"[they] provide immensely high-quality work and an excellent service for their clients". 
"the firm puts its clients front and centre and provides a first-class service".  
Clive Thomas (Band 1) has particular experience acting on serious and fatal RTA claims. He has handled matters with complex witness situations, including cases which have none or those who reside outside the UK.
Michael Imperato (Band 2) concentrates largely on trade union-related and industrial disease cases. He also has extensive experience acting for claimants who have been involved in RTAs.
"Michael is very easy to work with, very happy to speak on the phone and he keeps you up to date. The papers we get are always immaculately produced." blank space
Family/Matrimonial – Band 2
Head of practice Sophie Hughes (Band 2) excels in the field of private family law, advising primarily on matrimonial finance matters.
"She is a very thorough practitioner".
To explore the firm's complete profile and rankings you can visit the Chambers UK website.
Chambers UK is a guide of the top ranked lawyers and law firms in the UK.   Rankings are assessed by a team of experienced researchers.  They state on their website "If you are buying legal services in the UK and need reliable and up-to-date recommendations on the best law firms and lawyers, Chambers and Partners rankings, editorial and analysis will provide you with the information you need to make an informed decision, all based on our market leading research".