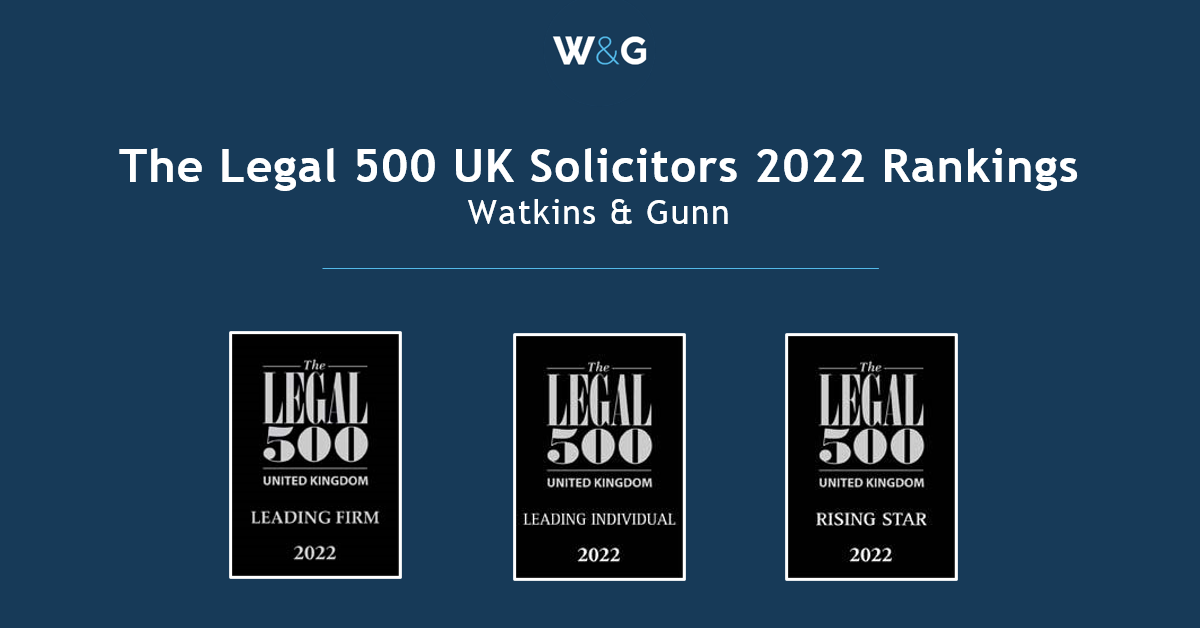 The Legal 500 UK Solicitors is the leading guide to law firms and solicitors in the UK.  The rankings reflect the results of detailed analysis by a team of experienced researchers in accordance with strict guidelines.  The guide ranks law firms and lists leading individuals by location and practice area; allowing those who require legal services to make an informed decision about the firm they appoint.
We are delighted to say that Watkins & Gunn has, once again, been recognised in The Legal 500 2022 Edition in the following areas.
Family
The firm are ranked in 'Tier 2' for family law.  Family Team Head, Sophie Hughes, is singled out as one of the 'Leading Individuals' in Wales.  Leading Individuals are defined as 'true market leaders with long-established reputations in their sector, lead roles in multiple recent significant matters, and exceptional, widespread recognition and endorsement from peers and clients alike'. 
Kate Roberts, Leah Rhydderch and Natalie Corten are also recognised as 'Key Lawyers'.
Legal 500 commented:
Demonstrating 'dedication and tremendous hard work for their clients', which includes high-net-worth individuals at one end of the spectrum and the most vulnerable in society at the other, Watkins & Gunn Limited is 'hugely respected' across south east Wales for its expertise in ancillary relief matters and public children cases. 'Approachable' team head Sophie Hughes  'provides practical and sensible advice' and is noted for her collaborative approach to handling matters, which often involve highly complex financial arrangements. Kate Roberts leads the firm's specialised childcare team and 'consistently impresses with her sensible and grounded advice', as well as her ability 'get through to clients and help them to understand the issues in their sensitive cases'.
Public Sector
The firm is ranked in 'Tier 3' in the Public Sector category in Wales; with Public Law Team Head, Michael Imperato, inducted into The Legal 500 'Hall of Fame'. The Hall of Fame highlights individuals who are widely regarded as being at the pinnacle of the profession and must have been consistently ranked as a leading individual by the Legal 500 for at least 8 years.  . 
Lucy O'Brien is named as a 'Rising Star' – an associate-level lawyer who frequently appears in significant matters and are widely cited by peers and/or clients as having made major contributions to practices.
Legal 500 commented:
Led by 'strategic thinker' Michael Imperato, the 'excellent, courteous and efficient' public law team at Watkins & Gunn Limited has established a market-leading claimant-side practice, which 'not only looks to serve their clients individually but also how to support organisations in making change happen'. Imperato is 'very knowledgeable about judicial review', and alongside associate Lucy O'Brien has 'a wealth of knowledge of Welsh public law in relation to challenges to the decisions of public authorities in Wales'.
Personal Injury & Clinical Negligence – Claimant
The firm is ranked in Tier 3 and Tier 4 for Personal Injury and Clinical Negligence respectively.
Clive Thomas and Jonathan Wellington are singled out in the commentary and Michael Imperato, Lisa Guscott and Lyndsey Gordon-Webb are also highlighted as 'Key Lawyers'.
Legal 500 commented:
With lawyers based out of the firm's Cardiff, Newport and Pontypool offices, Watkins & Gunn Limited has 'a long-established presence in south east Wales and a good reputation for representing local clients' across a range of personal injury and clinical negligence matters. 'Vastly experienced' Pontypool-based partner Clive Thomas has a 'knack for spotting and running cases successfully that others may not take on' and heads up the personal injury offering at the firm that regularly handles high-value catastrophic cases for private clients, as well as employers' liability matters for key union clients. Jonathan Wellington  has a 'good relationship with his clients and is alive to all of the salient issues in a case' across both clinical negligence matters, as well as on multi-track personal injury cases involving medical issues.
Employment
The firm is ranked in Tier 6 for Employment in Wales.  Employment Team Head, Lisa Guscott, is highlighted as a 'Recommended Lawyer'.
Legal 500 commented:
Headed by Lisa Guscott, Watkins & Gunn Limited is particularly well-versed in relation to handling trade union-related employment matters, including as it relates to industrial action.